4K decoder VU+ ZERO Ultra HD 2160p DVB-S2X Enigma 2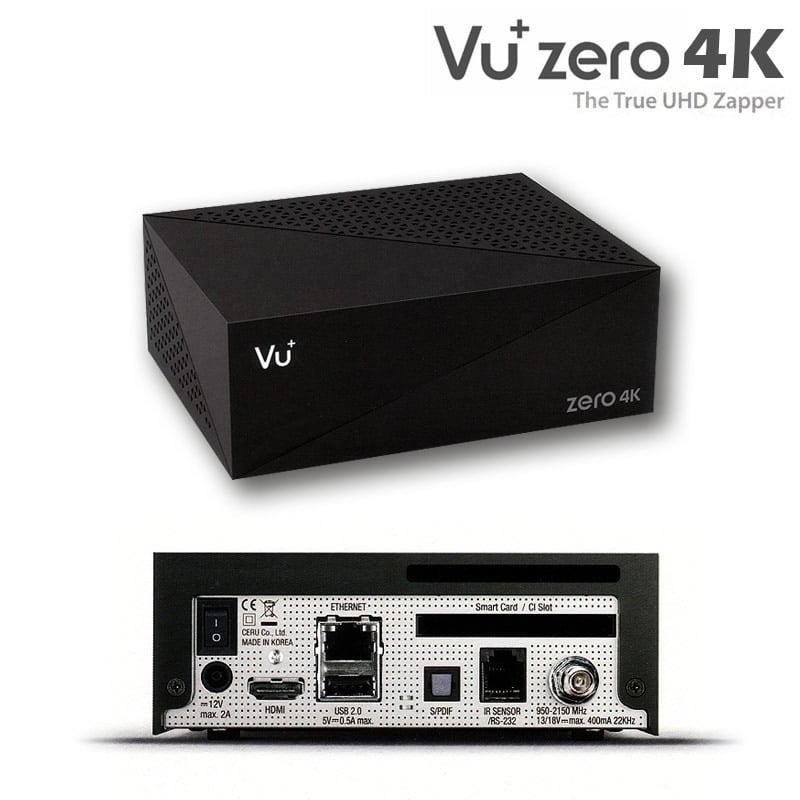 TheVu+ ZERO 4K is a new 4K receiver model, the successor to the Vu+ ZERO, from Korean manufacturerMarusys. It features a very powerful processor with a speed of 7000 DMIPS, as well as support forDVB-S2X (alternatively DVB-T2/C). It comes with 4GB of flash memory and 1GB of RAM on board. Vu+ ZERO 4K is equipped with a card reader and CI slot. Supports HDR10/HLG/PLM display technologies. The manufacturer advertises this device as the smallest 4K receiver on E2 software.

Vu+ ZERO 4K is the cheapest and smallest receiver in the VU+ family:
. It supports 4K UHD resolution (Ultra HD 2160p) and the HEVC/H.265 video codec.
Vu+ ZERO 4K is a groundbreaking product on the market that supports the latest video formats, but at the same time leaves full freedom to the user, with freedom of settings, channel list ordering, recording (including HEVC/UHD) and New BROADCOM dual core processor architecture with 7000 DMIPS
make the device even more efficient, faster and more powerful.Tuner works with CI/CI+ modules and cards operating in different systems.
for CI+ support it is necessary to upload special software.NOTE: !!!!
CI+ reader is unlocked (works properly) after uploading VTI software.On request, we can prepare a decoder to work properly with CI+ module.
If you want this service to be done for free, write in the comments of your order.
Key benefits of the VU+ Zero 4K:
1 DVB-S2X header
1 card readers
1 connector for CI modules
Timeshift / PVR (by connecting an external drive)
Universal TV/SAT remote control
Enigma2
ULTRA HD 4K 2160p
dual-core processor from BROADCOM
1024MB DDR RAM and 4096MB FLASH memory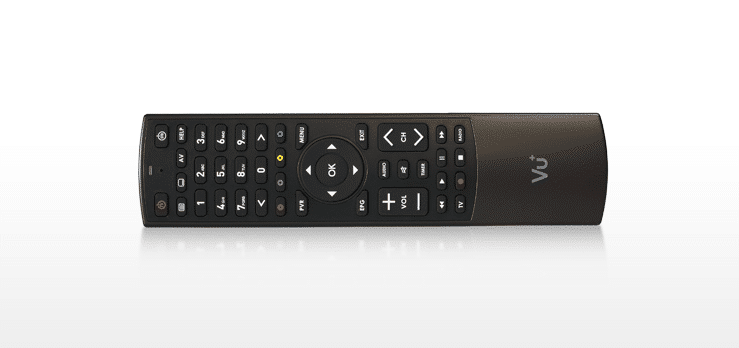 Included:
VU+ ZERO 4K Tuner
Remote control + batteries
Operating Instructions
HDMI cable
Specification:
Linux operating system (Open-Source Linux System compliant with E2)
* CPU type: ARM Broadcom 72604
* CPU speed: 7000DMIPS
* * RAM: 2GB
* Flash memory: 4096MB
* Built-in head unit: single DVB-S2X
* Supported video resolutions: SDTV, HDTV, 3DTV, UHDTV
* Common Interface Slot: 1
* Card reader: 1 – after reprogramming multi-system
* USB port: 1 (USB 2.0)
* V.24/RS232: Yes
* LAN socket: 100 Mbit/s
* HDMI: 1 (version 2.0)
Other connectors: digital audio S/PDIF optical
Universal new type remote control
Possibility to connect an external infrared receiver
* switching channels in under 1 second
EPG (programme guide)
* unlimited number of channels and favourite lists
OSD menu, Skin support
Power supply: 100-240 V/50-60 Hz
Dimensions: 140 x 50 x 108 mm
Weight: 0,5 kg
We also offer many other Vu+ tuners.
Check and compare the specifications: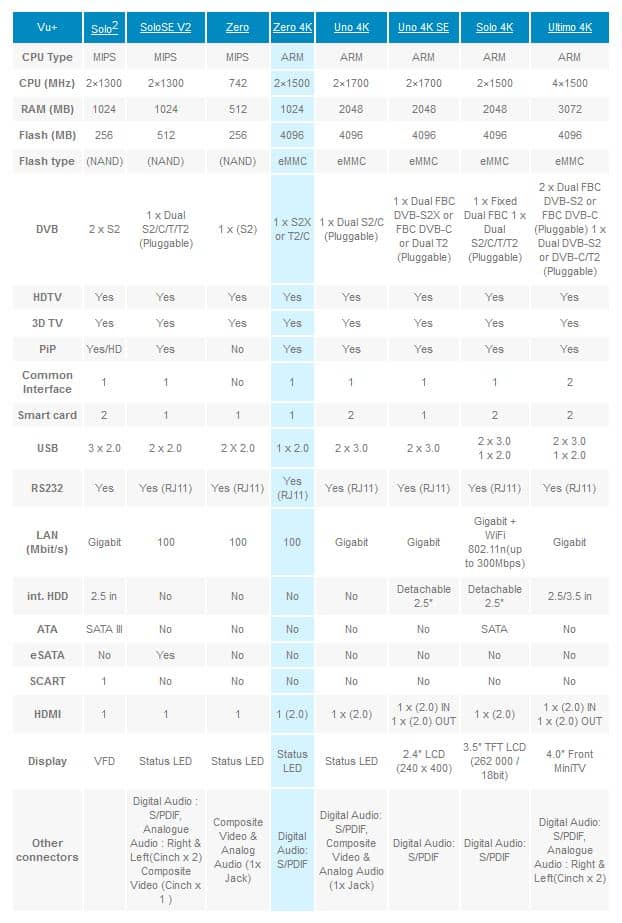 WHY IS IT WORTH BUYING ?
Low-cost, compact, high-quality Ultra HD receiver, HEVC on Linux
1 card reader and 1 CI/CI+ slot
Ethernet and USB
New high-speed processor 7000DMIPS
quiet, fast, trouble-free operation
SCREENS :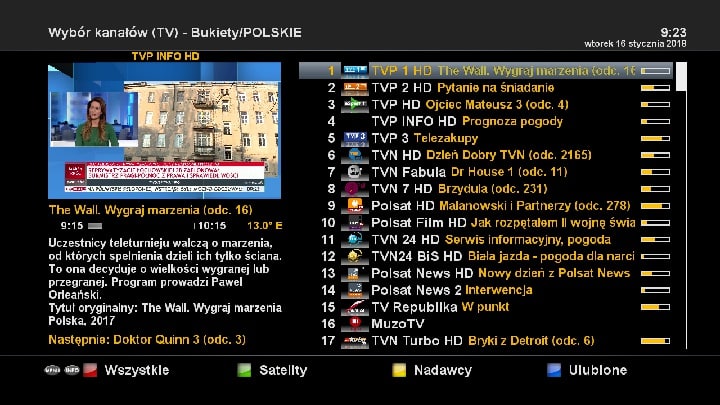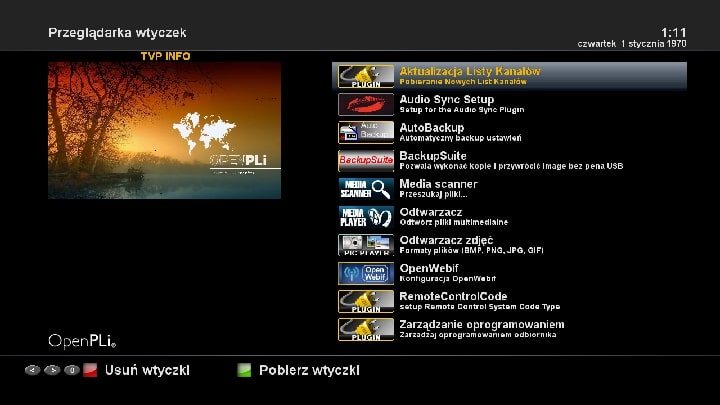 The decoders have loaded softy and channel lists. They work great with :
– SECA cards, CONAX NAGRAVISION
– CONAX , NAGRAVISION and free market modules
– in a sharing network
– as an IPTV decoder for streaming without a satellite dish
Possibility to choose optional extras for the decoder:
DESCRIPTION OF THE ADDITIVES :
1. 4K NC+Cayman CAM CI+ module
You can find all information about this product by clicking >>TU <<
2. MIX card with a 30-day START package
CONAX card with START package recharged for 30 days including programs :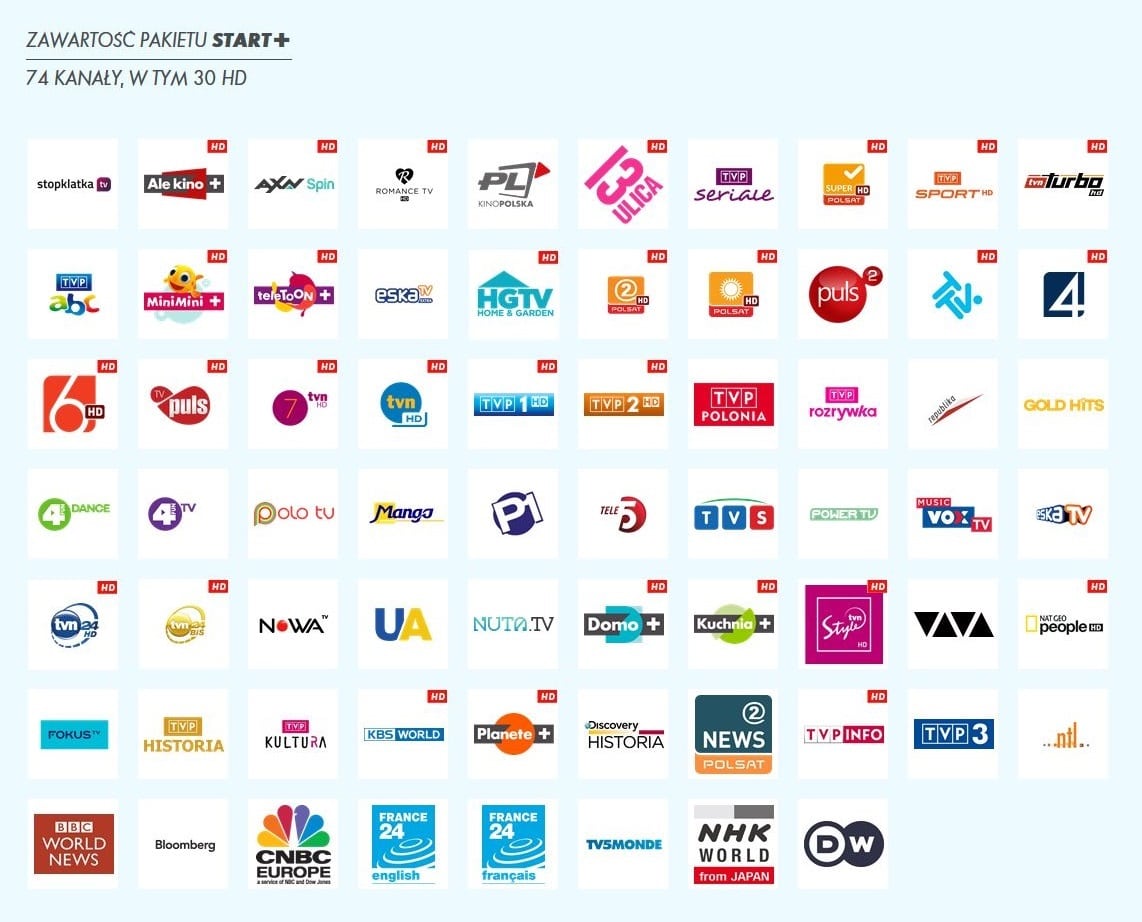 STOPKLATKA, ALE KINO+ HD, AXN SPIN HD, ROMANCE TV HD, KINO POLSKA, 13 ULICA HD, TVP SERIALE, SUPER POLSAT HD, TVP SPORT HD, TVN TURBO HD, TVP ABC, MINIMINI+ HD, TELETOON+ HD, ESKA TV EXTRA, HGTV HD, POLSAT 2 HD, POLSAT HD, PULS 2, TTV HD, TV4 HD, TV 6 HD, TV PULS HD, TVN 7 HD, TVN HD, TVP 1 HD, TVP 2 HD, TVP POLONIA, TVP ROZRYWKA, REPUBLIKA, GOLD HITS, 4FUN DANCE, 4FUN TV, POLO TV, MANGO 24, POLONIA 1, TELE 5, TVS, POWER TV, VOX MUSIC TV, ESKA TV, TVN 24 HD, TVN 24 BIS HD, NOWE TV, UA, NUTA.TV, DOMO+ HD, KUCHNIA+ HD, TVN STYLE HD, VIVA, NAT GEO PEOPLE HD, FOCUS TV, TVP HISTORIA, TVP KULTURA, KBS WORLD HD, PLANETE+ HD, DISCOVERY HISTORIA, POLSAT NEWS 2, TVP INFO HD, TVP 3, NTL RADOMSKO, BBC WORLD NEWS, BLOOMBERG, CNBC EUROPE, FRANCE 24 ENGLISH, FRANCE 24 FRANCAIS, TV5MONDE, NHK WORLD FROM JAPAN, DW, STARS TV, POLSAT MUSIC HD, ESKA ROCK TV, TO!TV, TBN POLSKA, EURONEWS.
Card with a pre-paid START HD package for 30 days
you can buy separately >>by clicking on this link <<
3. CONAX card with START package for 12 months
CONAX card with START package recharged for 12 months. List of programs as in point 2.
Card with a pre-paid START HD package for 12 months
you can buy separately >>by clicking on this link <<
In order to dispel any doubts, please contact
at
office@satservice.co.uk

or call
Office: 02085773782
Mobile: 07988424050